Our Services
---
We aim to be an integral part of your executive team by contributing to and influencing the strategic business planning direction of your company.

Did you know, we offer a comprehensive range of balancing the books tailored to your needs? Customized Packages We offer a comprehensive range of bookkeeping packages tailored to suit your

We help put in place tax efficient strategies to help your business grow.

We help increase your financial acumen so you can act with confidence. Our Experts Our expert team will work with you to increase your financial acumen so you can act
ONE-ON-ONE FINANCIAL & ACCOUNTING SETUP
EVERYTHING you need to get set up so that you and your team can look at your financials and understand EXACTLY what is going on.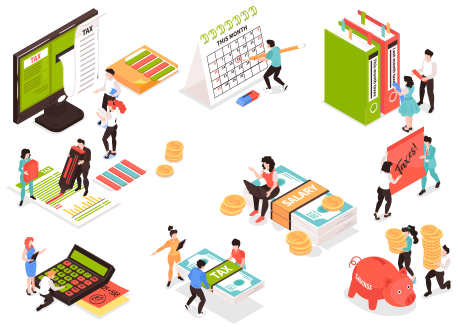 Accountable. Reliable. Progressive.
Our mission is to help Canadian small and medium sized business owners gain insight about their financial situation, improve profitability and minimize business risk. We can do this at a fraction of a cost of a full-time controller.
We empower business owners by helping them understand which numbers really drive profit so they can achieve their business objectives.
We help you understand the basics of financial management in a way that is relevant to your business.
"I have worked with Agnes consistently for the past 6 years and must say it is the best investment that I have ever made. Today she is not only my finance adviser but has also become my mentor and friend. Agnes provides an incredibly valuable service that is not only practical but meaningful to your own personal and business growth. Besides giving me the personalized tools to create manageable budgets and financial plans to save and invest for my future, she has helped me rewire my mindset when it comes to money. Everything she has taught me and mentored me through so far are skills and mindsets. At the end of every session and/or conversation with Agnes, I have this newfound energy, drive, and motivation. It happens every time! My life has changed considerably since that first appointment as I continue to work with Agnes on a regular basis. I can only say that Agnes is a real talent and I am blessed to have found her. I highly recommend Agnes for anyone desiring a great mentor. She tailors each appointment to suit my changing needs and growth while gently moving me towards my goals."
Agnes has been my business finance coach and tax consultant for the past 7 years. Agnes has the rare talent of taking something that can otherwise be very complex and intimidating and breaking it down into easy to understand pieces. Agnes has the knowledge, communications skills and professional teaching to get you toward your goal. She is not only knowledgeable, but also very patient and thorough. Her tax planning strategies for my business have saved me a lot of money and just the peace of mind of knowing things are being done correctly has been a real blessing for me personally and the business.
Agnes is the perfect fit for small and medium size businesses not that large companies are excluded. She is able to shape the ideal program exclusively designed for management needs, company requirements or both. Agnes was lighting quick to assess that we were running blind. She worked with our team to design and implement a dashboard of key performance indicators. As backdrop to the action plan Agnes offered training and orientation to reading and understanding financial reports and statements. We have not looked back. We now have traction versus wheel spinning exemplified by positive results. Most valuable is that we are now able to navigate and find our way in uncertain economic times caused by the pandemic. I do not have and hesitation or reservation in recommending and endorsing Agnes. I encourage companies that are facing financial or economic challenges to give Agnes a call.
She is a consummate professional and knows the quickest way to achieve results.
We work with businesses across Canada
Let's talk numbers, business and strategy.